Rib Sea Safaris
Join us on a superb tour of Brandon Bay
Tour Info
Departure Scraganne Pier
Cruise around the Islands
Visit Illauntaunig Island
Dolphin and Sealife tour
This unique tour takes in the breath-taking majestic coastline of Tralee Bay and Brandon Bay and around the Maharees Islands.
We depart from Scraggane pier heading north to Illauntannig Island to view the Monastic settlement (we may land onto the Island weather dependent and we have our own dock to make it easier to access the Island) Then around the rest of the seven hogs Islands to view the delights that await you. From there we head across Brandon bay towards Brandon Head to see the cliffs and caves along Brandon Head and hopefully get to see our resident pod of bottle nose Dolphins on the way!!
This tour is limited 12 persons max each time, therefore it can offer a very personal experience! (Minimum 6 per tour).
Your captain has a great knowledge of this coastline as he has spent years on the sea around Ireland. They will fascinate you with many a story along the way!
This tour can be tailor made. You may privately hire the rib (boat) and decide on a particular area of the bay you would like to explore, like an up close view of the Maharees Islands or the Monastic settlement on Illauntannig. See the many Rock Formations around the 7 Hogs Islands and the West Kerry Coastline.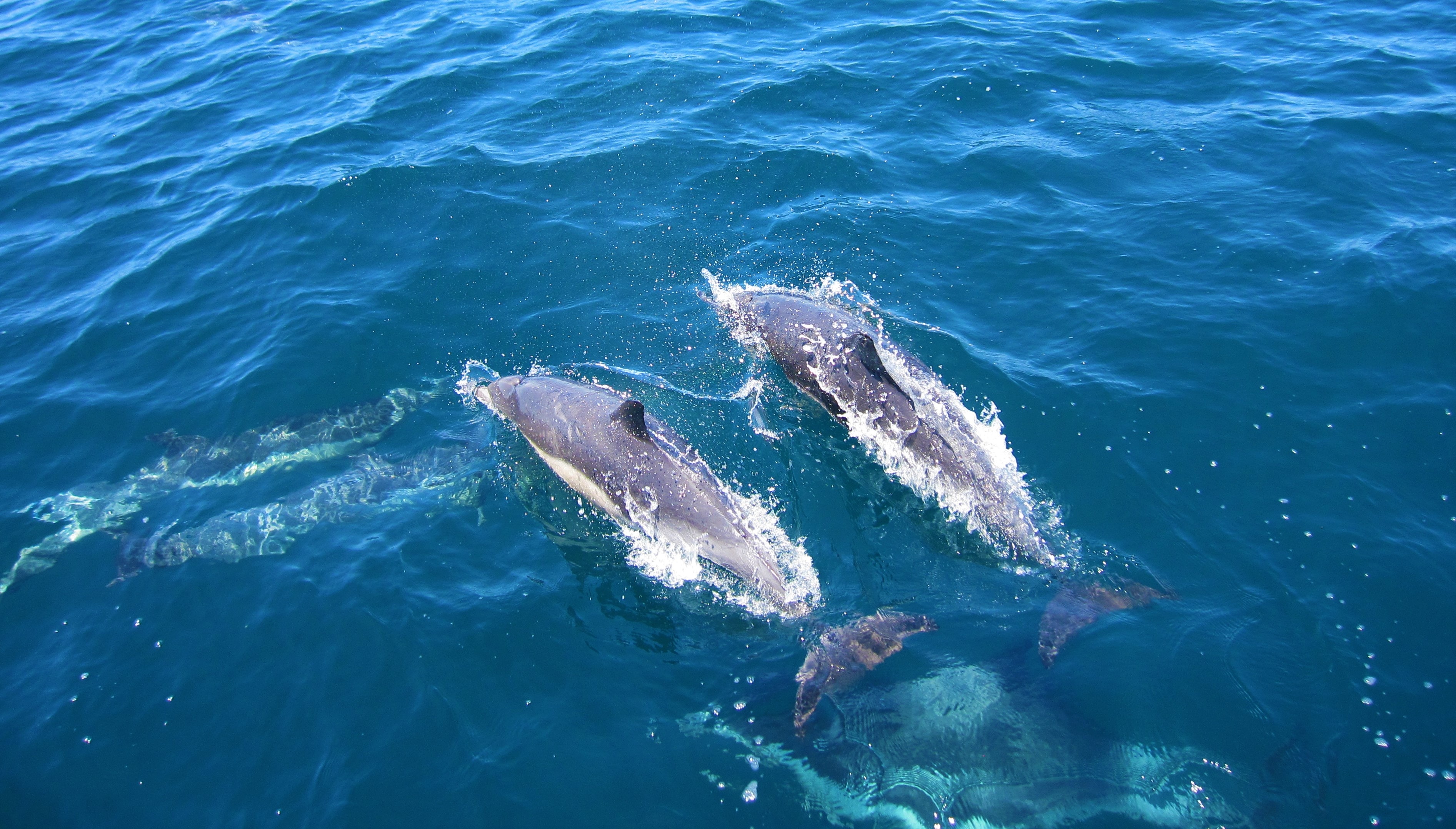 What we might See!
Local Seals
Whales & Dolphins
Sharks
Sea Birds
Our local Seals
Mucklaghbeg (An Mhuclach Bheag) Island hosts a colony of Seals. Seals are naturally curious creatures and therefore, with a good camera, it should be relatively easy to get some excellent pictures of them in their proper habitat.
Whales & Dolphins
We have a resident pod of bottle nose dolphins in Brandon bay and its seldom they don't come over to say hello and as a bonus on our Sea Safari we have come across Minke Whales, Pilot Whales, Humpback Whales, Fin Whales, Killer Whales "Orca", Porpoises, Dolphins: Common, Bottlenose, Risso, Atlantic white sided.
Other Sea life
Blue Sharks, Basking Sharks (second biggest fish in the world). Seals: Grey and Common and many other interesting species like Sun Fish and various Jellyfish. Seabirds Guillemot, Gannets, Kittiwake, Storm Petrels, Razorbill to name a few.
Testimonial
The tour was so interesting and Phil was such a knolwedgable and friendly guide- we will defintely go again!
Tour FAQ's
wHAT WILDLIFE MIGHT WE SEE?

What, or even if, we see any wildlife can never be guaranteed, However, depending on climate and seasons the seas around West Kerry are often visited by: – Sharks – Blue, Basking Dolphins – Common, Bottlenose, Risso, Atlantic White Sided Porpoises – Harbour Whales – Humpback, Mink, Fin Seals – Atlantic Grey, Common Seabirds – Guillemot, Gannet, Kittiwake, Storm Petrel, Razorbill, Puffin … Also Leatherback Turtles and Various Jellyfish

HOW LARGE A GROUP CAN YOU ACCEPT BOOKINGS FOR?

Our boat can take 12 Passengers + Crew at any one time. For larger parties wanting Island Transfers etc we can always do multiple runs.

HOW MUCH DOES IT COST?

The cost of the tour is 45euro pp which includes a seat and a buoyancy aid. The price for adults and children is the same.

HOW LARGE A GROUP CAN YOU ACCEPT BOOKINGS FOR?

Our boat can take 12 Passengers + Crew at any one time. For larger parties wanting Island Transfers etc we can always do multiple runs.

WHAT HAPPENS IF A TRIP IS CANCELLED?

We Reserve The Right To Cancel A Trip If We Feel The Conditions Are Unsafe.  Under These Circumstances All Monies Shall Be Refunded – It Is Also Imperative That You Leave Us Correct Contact Details At Time Of Booking. Should You Need To Cancel A Booking For Any Reason We Require 48 Hours Notice Otherwise Deposits Will Not Be Refundable.

WHAT SHOULD I BRING ON THE TRIP? WILL I GET WET?

We Recommend That you Wear a Good Waterproof / Windproof Jacket. It will be cool once we depart the pier and there will be spray from the sea. Please apply sun cream protection if necessary. .. And Don't Forget Your Camera (And Fresh Batteries)

ARE THE TRIPS SUITABLE FOR YOUNG CHILDREN

All children should be accompanied by an adult (18+) to take full responsibility and direct supervision while on the tour. We do not have a minimum age requirement as all children are different shapes and sizes, so the minimum height requirement is 1.2m. Their feet must be able to reach the floor while sitting on the seat.